Perfekt abgestimmte Implantatkomponenten für erstklassige Qualität in der Implantologie.
Simon Jakubka, Application Engineer bei FOLLOW-ME!, erklärt die Vorteile der Dentalen Hybrid Fertigung.
Bei der Fertigung von dentalen Teilen unterliegt das traditionelle Fräsen einigen Einschränkungen. Die FOLLOW-ME! Technology Group hat eine Lösung für die Hybride Fertigung entwickelt, mit der die Kosten pro Teil gesenkt werden können…
hyperDENT Practicelab ist eine hoch automatisierte, einfach zu bedienende CAM-Software, die speziell für die Bearbeitung von Einzelelement-Rohteilen, wie z. B. Glaskeramik-Blöcken und Preform-Abutments entwickelt wurde.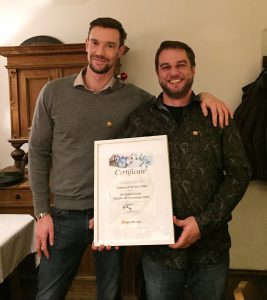 Das FOLLOW-ME! Team hatte eine wunderschöne Weihnachtsfeier in München, bei der auch in diesem Jahr der "Engineer of the year 2018" gekürt wurde.
In diesem Jahr ging der Award an Gerhard Seidel, Application Engineer, FOLLOW-ME! Head Office. Gerhard hat die Zusammenarbeit mit FOLLOW-ME! schon 2013 begonnen und gehört seit 2016 zum festen Team. Er überzeugt unsere Kunden und Händler mit seiner Freundlichkeit und Kompetenz.
Er ist viel unterwegs, setzt Datenbanken auf, begleitet Kunden bei ihren Projekten und hält Schulungen.
Wir sind dankbar Gerhard als Teil unseres Teams zu haben und freuen uns auf viele spannende Projekte mit ihm in 2019.
Broschüre:
hyperDENT | The Art of Dental Engineering